How to Start a RV Rental Business
Starting an RV Business can be Lucrative
In this article, you will learn the following:
How to identify the Recreational Vehicle (RV)  Service Product you will be Offering.
You'll learn about the business potential and just how much can be earned in this business!
How to establish a "Delivered RV Rental" in the booming RV rental market.
A forecast of the RV rental Market! It's important to understand the numbers.
Some of the important things you need to know as an RV Rental entrepreneur.
You'll be given an outline to establish you business strategy. It can be done so simply in 5 steps.
So, let's get started! Here is an overview of the RV Rental business…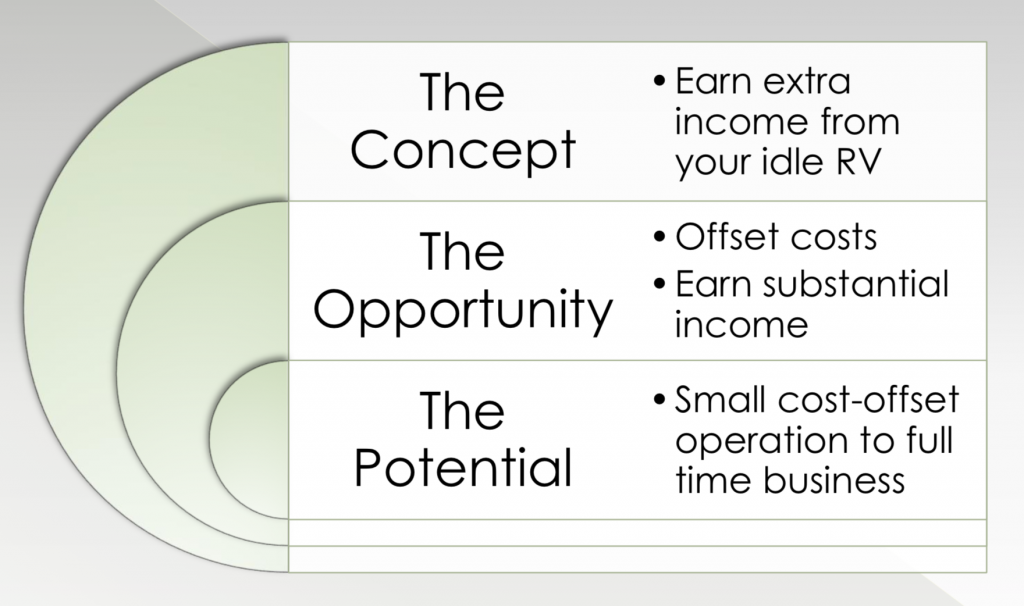 The Concept
Do you currently own an RV that sits in your driveway or in storage? Are you looking to buy an RV. Think about all of the money you're current wasting, or will be wasting when you purchase it, by letting your RV sit in the driveway. With this RV Rental business concept, you can earn extra income from your RV that is, or will be sitting idle. Novel idea, isn't it… Check out how many people are renting out their RV's on the RVT.com website. These people are making money, and you can too.
The Opportunity
You spent, or will spend a good amount of money on your RV! At the time of acquisition, it becomes a liability. Why not turn your RV into an asset that gives you a return on your investment? Why not offset your costs by renting it out, therefore earning substantial income that can change your life. Here is a great resource to buy a RV for your new RV Rental Business: RVT.com Website.
The Potential
When you experience how lucrative this business can be, you will soon want to turn this business into a full-time revenue stream by building a viable RV Rental business, or you can simply minimize your RV ownership costs by renting your RV out to offset your costs.
Gain some business knowledge for free… My Education Manager Free Career Research Library <Click Here>
What is your value proposition?
First, you have to buy an RV before you can rent it. Check out all of the inventory available on RVT.com. You can provide two different types of services, including:
An RV Rental Delivery Business 
Deliver the RV's you own
Deliver RV's to area campgrounds and parks
Set up the RV's for renters

Weddings
Anniversaries
Special occasions

Provide RV as a temporary mobile kitchen for house remodels
Set up and ready the RV upon arrival of renters
Provide them with cookware, linens, towels, toiletries, etc…
Do not permit renters to drive or tow
Include damage and liability insurance
RV Transport and RV Rental Management 
You can provide manage your RV as a vacation rental
You can open a RV Rental Consignments location and work rent RV's for other owners
Act as a RV Transport and delivery service for other owners
Provide cleaning and repair services for other owners
Provide storage and maintenance services for other owners
Now let's take a breather for a second. Are you ready to consider buying and renting RV's as a business based on these two value proposition models? If so, continue reading. If not… there are plenty of other great business ideas and articles for you to consider on FreeManagementResources.com
So you're ready to continue exploring your RV rental business opportunity. The remainder of this article will go into detail on how you can start this business… You can also find other very useful business strategy resources in this blog <Click here>. 
Now, let's look at the numbers. If you rent one RV six (6) times a year for a week at a time, do some RV deliveries, and  outsource some RV cleaning work, you can potentially earn a cool $5,280. You can potentially double the earnings if you rent your RV out just 12 times a year for a week at a time. Unless you live in your RV full-time, it only makes sense to rent out your RV when thinking about this kind of profit potential. Otherwise, your RV will just sit there, ultimately costing you money, and in the long run, becomes quite a loss. Don't forget, you will need good and affordable RV Insurance.
*** These calculations assume $200 in monthly expenses for storage, RV insurance, maintenance, and other miscellaneous costs, at a tax rate/bracket of approximately 20%.
***You will need to seek tax and financial advice from licensed professionals to understand all tax and financial implications for your personal situation. You can start obtaining financing for your RV Rentals by visiting the RVT.com Finance website.
Let's discuss the Delivered RV Rental Market
The delivered recreational vehicle rental market has been growing significantly and is currently at upwards of $350 million dollars a year in revenue. The convenience of a delivered recreational vehicle appeals to any generation, your or old. It comes down to RV lifestyle is one that people like to enjoy, but to own and store one can be seen as a burden.
Let's face it, booking travel online continues to be a norm for many households world-wide. in fact, over 60% of travelers now book online. Digital marketing is growing, so you will need to sharpen your game by learning best practices in digital marketing strategy. This blog has a few great articles for you to learn how to master digital marketing practices.
Think about how you can position your Delivered RV Rental products. You can tout the benefits of a staycation in an RV and how it helps reduce carbon emissions, let alone taking away the stress and rigor of driving an RV on vacation. A delivered RV rental results in less damage to your RV, but also less of a headache for your customers. Be a hero to your customers!
Did you know that people take 40 million camping trips per year, and there are over 3.9 million people that remodel their kitchens each year? Did you know there are over 2.5 million weddings per year? These are potential market niches you can consider targeting. Target marketing is an important part of this business you will need to master. Truly, target marketing is important for any business. 

So, if 9.9 million people own RV's in North America, you can bet there is great demand for the RV lifestyle. However, only 10% of RV owners actually rent out their RV as a means of making additional income. If you want to create this RV business, you need to own an RV or two So buy an RV and get started. If done correctly, you won't regret it. There are many websites where you can rent your RV to rent it out, just like RVT.com. Just fill out the form thoroughly, and you will be right on your way to renting out your RV. Be sure to study the competition and pricing in your market for renting out your RV. You will probably be surprised how much you can rent your RV out for in order to make additional income.
So here are your 5 simple steps to start your RV rental business to rent out your RV to make additional income:
Purchase an RV or consign one from your personal network in order to rent it out.
Make the decision on the locations you would like to rent your RV. Will you deliver it? Will you allow pickup and go? Location, Location, Location. Be sure you choose high demand areas and locations near the storage facility for your RV so you don't have far to travel.
List your RV for rent on RVT.com
Ensure your RV is setup and ready to deliver to your customers, fully stocked with all you have promised to provide.  Create a checklist to make sure all maintenance items are operational. Make an inventory checklist.
Word of mouth is powerful. Go full speed ahead to market your new RV rental business on Social Media. Share the information with friends and family.
Good Luck!
~ Daniel Fortune