Licensed Electrician and Process Control Specialist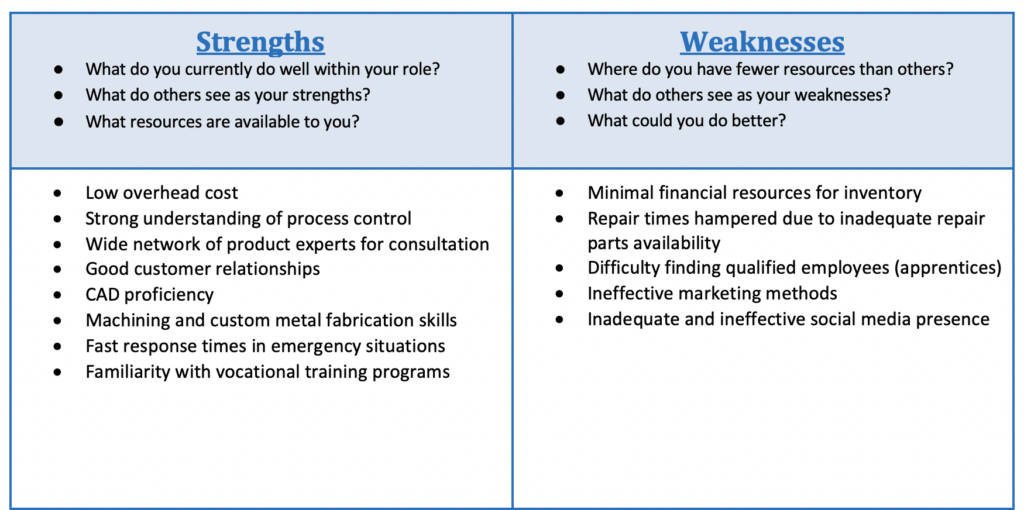 Developing an Outcome List
In viewing my personal SWOT analysis, I see that I can combine my weakness of having difficulty finding qualified apprentices with my strength of being acquainted with state and union sponsored apprenticeship training programs to fill the positions I have available. I can begin by researching apprenticeship programs in my area including vocational high schools and post-secondary education providers. Once I have identified programs that have students within my geographic area, I can meet with the school representatives and discuss how my company fits into their goals for co-op work opportunities for students as well as post-graduation employment placements.  I would aspire to begin and conduct my research within the next six months. Following that, I could start making appointments with career counselors within the next four months. 
Another item in the weakness quadrant is my lack of adequate capital to finance inventory at a level that would lower the time it takes to effect a repair for my industrial customers. Here I may be able to utilize my excellent customer relationships skills by convincing them to pre-purchase and keep in stock, some commonly use repair parts to be kept on-site in their facility. The timeline for this would be short term could begin immediately. Within the next week, I can make an appointment with a manager who is in a position to authorize such a purchase.
As for the threat presented by competitors with similar skills, I can partially offset their advantage by providing my services at a lower cost. As for changing code requirements and other regulatory measures, the best countermeasure is to keep abreast of proposed regulations so as to be pro-active in adjusting to the new requirements. The timeline here is on-going and can be augmented through regular contact with the available trade organizations as was listed in the opportunities quadrant.