Momentum Group Case Study
We are going to be looking at our company, Momentum Group, from a management, leadership, and organizational design perspective within the commercial textile industry as well as compare it to one of our biggest competitors within our niche, Mayer Fabrics.
Momentum Group is a Baldridge Award Winning Company awarded for our excellence in textiles. We started out as a small textile manufacturing company and have grown to be a leader in the commercial interiors industry. Based out of Irvine, California, Momentum Group was established in 1994. Since then, our company has grown, having warehouses in North Carolina and Michigan, as well as showrooms in Illinois, New York, and Texas. To be more successful than our competitors, we have targeted to three customer segments and two customer groups: office and healthcare, hospitality, high end office, architectural and design firms, and commercial furniture manufacturers. Our products include Momentum Textiles, Loom Source, and Textus. These textiles are used for patient rooms in the healthcare market, and LoomSource and Textus are used in administrative staff offices, creating an advantage as being a "one stop shop (National Institute of Standards and Technology, 2017)."
Watch the Video:
The definition of momentum according to Webster's Dictionary is "the driving force gained by the development or process or course of events." We have proved our driving force in the choices we have made in its processes to be one of the leaders in this industry. To stay ahead of our competitors, we offer products such as the Crypton Super Fabric. It has been designed and engineered to protect against stains, moisture, mildew, bacteria, and odor. It also has been patented in a way that acts as a barrier that not only can be disinfected but can guarantee nothing can penetrate the fabric to get through to the cushion (Momentum Group, 2019). We also sell products such as recycled wool, which was the first recycled wool in the textile industry, Silica prints, Naked Nylon, and Silica, a fabric that is an alternative to vinyl (National Institute of Standards and Technology, 2017).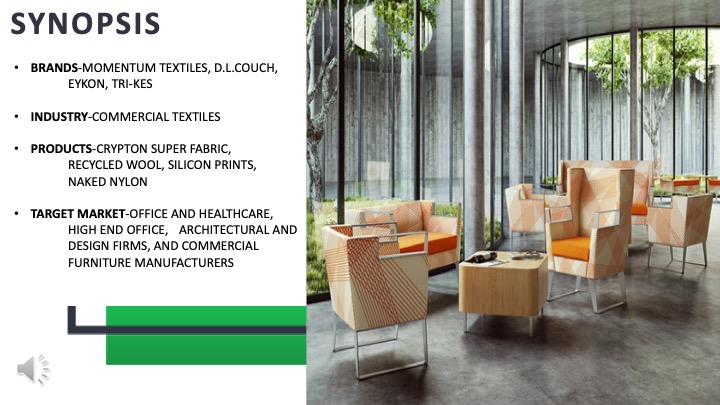 Because of our design, we have sold over 100 million yards of fabric that has been installed in commercial businesses such as hospitals, hotels, restaurants, and healthcare facilities around the world (Momentum Group, 2019). As of recent, we have just acquired three sister companies: D. L. Couch, Eykon, and Tri-Kes, which has turned us into a $200 million multi-brand powerhouse in this sector. These combined companies have given us a competitive edge that we have needed in order to move forward in our goals to strive to continue to be at the forefront, creating new innovative ideas to stay ahead of the rest (McMenamin, 2018).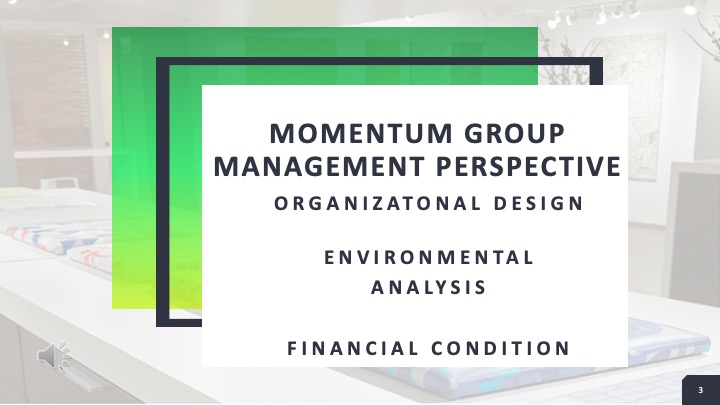 Organizational design is important to any organization and can be a major factor when it comes to performance and how well the organization works together (Burton & Obel, 2018). Environmental analysis can be just as important in order to assess the relevance of a company's strategy from the standpoint of a its macro-environment. Each of these components have the ability to affect the industry a company is in as well as their competitive environment. Understanding the external environment and the position of our company within it can be useful in knowing how the changes in our environment may effect our company's performance (Thompson, 2018). The financial condition can also be important because the financial performance is linked and related to how well the company is organized and how well we allocate our resources (Barney & Wright, 1998).
In our organizational design, our senior leaders foster communication using several different methods in order to effectively engage with our stakeholders.  At our key meetings, we foster a business and customer-based culture through not only the senior leader's attendance, but through their attendance at day-to-day operation meetings, their mentoring skills in solving issues, and attending key customer sales calls. Our communication is multi-directional which makes us more successful due to our transparency on every level (National Institute of Standards and Technology, 2017).
Roger Arciniega is our President of Momentum Group (Bloomberg, 2019).  All senior leaders within our company are held accountable by him for their strategic initiatives for any action plan.  He also evaluates each senior leaders performance which are done by reviewing evaluations and financial results that is reviewed by the Board of Directors each quarter.  The compensation of each senior leader is also evaluated in this same manner. He continues to stay very involved with the employees as well, by not only handing out awards and recognition on every level, but by attending every milestone meeting.  To continue to inspire, he writes out handwritten birthday cards each year to each employee and holds an annual appreciation dinner, which is also important to company morale.  This shows in the fact that all of the senior leaders as well as most of the employees have been with the company for ten years or more. This structure allows for our own employees to move up in the ladder of leadership by mentoring and coaching that is deployed through our entire organization (National Institute of Standards and Technology, 2017).
Upon reviewing a recent PESTEL analysis done on Momentum, there are new laws such as the American Manufacturing Competitive Act of 2016 in which advances the process for American organizations as well as manufacturers to petition the government for temporary reductions, suspensions and duties on products that are vital components of American-made goods. It gives them tariff relief which will then lower production costs on parts that can not be found here in the United States.  By doing so, it allows companies to compete in the market globally (Forbes & Lawless, 2016). Within the economy there has been a massive import surge due to the new Act that was passed.  Overall there has been a growth in the industry. Due to the increase, it has made the United States the fourth largest exporter of fabrics in 2016.  Lifestyles have supported faster demand and has increased their environmental awareness. Momentum has kept up with this by offering all of its products that are reduced environmental impact while finding new innovative ways to find alternatives in sustainable products (National Institute of Standards and Technology) To reduce our carbon footprint further, we do so by operating under GREENGUARD Indoor Air Quality since 2010. We have installed solar panels to become a net energy producer (National Institute of Standards and Technology, 2017). Legal Requirements that must be considered are laws such as the Textile labeling rule in which states that every textile must have three pieces of information listed: the fiber content, country of origin, and the importer or dealer.  This goes hand in hand with the Care Labeling Rule in which the care instructions from the fabric must also be revealed on the products (Federal Trade Commission, 2019).  Momentum Group has a competitive advantage over its competitors which has put us in an excellent market position due to our ability to stay on top of the laws and requirements as well as the changing economy and other factors that are offered in the recent PESTEL analysis. Our senior leaders are on the Board of Directors for the Association of Contract Textiles, or ACT, in which they consistently improve the testing and labeling products.  It also helps us to be able to compare our product's attributes to make sure they continue to exceed regulatory standards. We have the ability to produce products that are not easy to duplicate by other competitors, and our products are ready and available for the consumer. We calculate our efficiencies to develop more products as well as introduce new innovative products in order to meet consumers needs. We recently updated our website in order for it to be more consumer friendly and easier to order samples from them (National Institute of Standards and Technology, 2017)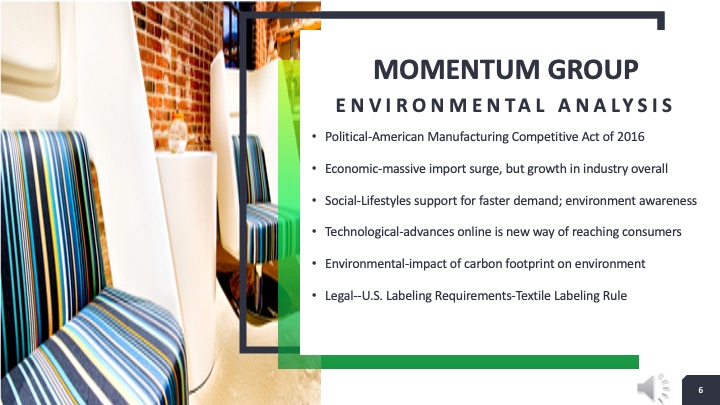 There are attractive opportunities for our company to grow.  Momentum due to its innovative capabilities has the ability to grow not just through our current products, but through new growth through new product categories. Momentum requests customer feedback to find out where we need to apply their resources in order to continue to make products that meet the customer's needs.  We also have acquired a sales rep team that spends appropriate time to customers who can have the greatest impact on growth on the company, especially to those who we deal with on the global level (National Institute of Standards and Technology, 2017). Momentum Group has an excellent competitive advantage in the textile industry. Our ability to be the leading added-value distributor as well as having the resources to create high innovative techniques and products puts us in a position to deliver products that customers do not only need but want. Our products are highly sustainable and environmentally friendly which opens up the door to new markets and new consumers who are environmentally aware, especially with the emerging demand for sustainable and high performing commercial fabrics.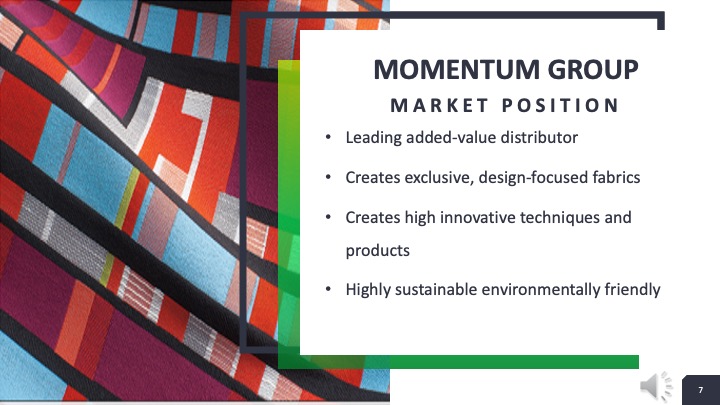 Our exclusive, design-focused fabrics are an indicator on the fact that our managers take into consideration the consumer's voice through surveys in order to deliver the best products they are capable of producing. Being on the Board for trade associations such as ACT and Businesses and Institutional Furniture Manufacturers helps us to make decisions that help to comply with industry standards and performance. Since we have textile suppliers all over the world, it gives us the availability to have higher bargaining power since we deal with multiple sources and not just one supplier. In knowing where we stand as a company and as a business within the commercial textile industry, it has led Momentum Group to make decisions that has led us to increase our sales 19 out of the 22 years in business, allowing us to plan out our strategic moves for the future as having unique products that no other company has to offer at this time (National Institute of Standards and Technology, 2017).
Our company's financial condition is excellent which is also helping the company to propel forward. We have third-party audits done every year as well as our 401(k) plan. We have a cost control structure within these types of processes that are done on a budget.  Monthly budget statements are sent out to each manager in each department in order to make sure they maintain their budget limits within their structure. The cost versus the budget is reviewed quarterly. This has allowed our company to use a cost as a percentage of sales that remains consistent. We also have policies in place that control costs in the largest areas of people and sample expense. The graph above shows cost structure and how it has decreased over the years as well as the percent of quality on the accuracy of orders which gives them added value when it comes to the consumer's thoughts on high quality. Because we also allow for our consumers to return any unused samples, it has also increased our savings (National Institute of Standards and Technology, 2017).  Because our organization's strong financial position, it has given us a strategic advantage since it gives us credibility with suppliers, consumers, and stakeholders. Because of our credit support process, it has effectively minimized our bad debt as a percentage of sales since it falls way below the BIC Credit Research Foundation benchmark (National Institute of Standards and Technology, 2017).  We have also acquired our new sister companies, D.L. Couch, Eykon, and Tri-Res which has surged us forward in now having a $200 million dollar multi-brand business, which will give us the financial ability to expand our business even further. Prior to our  merger, our estimated annual revenue was $5 million. By combining these companies with Momentum Group, it will allow us to have over 1,000 fabric patterns and 1,000 wall covering patterns available in over 20,000 colors (Bloomberg, 2019).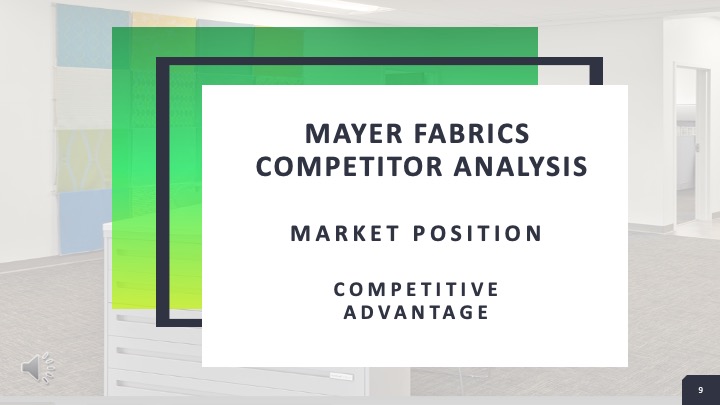 Mayer Fabrics is our #1 competitor and generates 400% of Momentum Group's Revenue (Owler, Inc., 2019). The company started back in 1897 by Mr. George L. Paetz under the Paetz Company because he saw a need in the market for custom design buggies and repair.  In the early 1900s, the company transitioned into supplier of fabrics, vinyl's and upholstery for residential applications. Richard F. Mayer became the company's president and sole owner in 1988 and two years later, developed Mayer Fabrics to offer the contract market highly durable fabrics at price points previously unavailable.  In 2003, he appointed his son, Steve Mayer as his chief executive officer. In 2014, they recently had a leadership restructure, where Richard F. Mayer, announced the appointment of Rick Mayer as Co-Chief Executive Officer, Rob Mayer as President and Mick Mayer as Senior Vice President for Government Sales (Mayer Fabrics, 2019). Because they are our biggest competitor, it is important to review their market position as well as their competitive advantages to know our own market position and where we stand within the textile industry.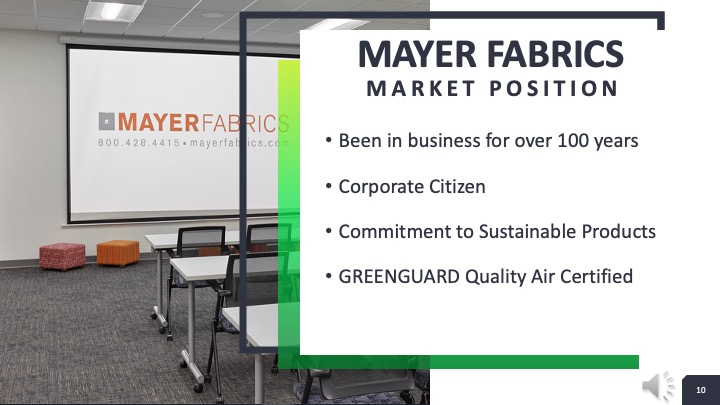 Mayer Fabrics has been around for over 100 years, which has made their brands much more popular and recognizable.  They have also have been around much longer which has given them a solid foundation financially.  They have positioned themselves to be a corporate citizen in which they serve organizations for greater causes, being a lead volunteer and financial supporter of The Common Thread for a Cure, Personal Energy Transportation, and Gleaners Food Bank of Indiana.  They have been committed to sustainable products that are environmental friendly, and have been GREENGUARD Quality Air Certified in 2010, the same year our company had become certified as well (Mayer Fabrics, 2019).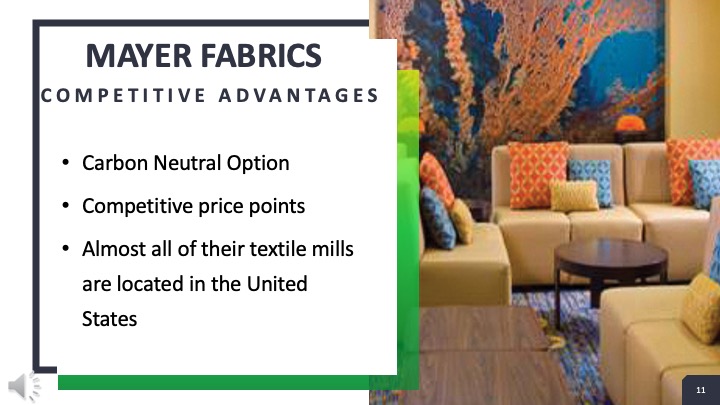 Mayer Fabrics, being that they have been around five times as long as Momentum Group has several competitive advantages.  They have teamed up with UPS, which is the first company to offer the ability to offset the carbon dioxide emissions generated by the transport of their packages within the United States. UPS purchases carbon credits to give Mayer Fabrics and all its customers a way to "offset" the emissions produced by the transportation of their shipments.  They also pride themselves in having only a handful of mills that manufacture their products which mostly are all located in the United States, which gives them competitive advantage in the economy by supporting job in America.  They also provide their products as a low-cost leader in the industry (Mayer Fabrics, 2019).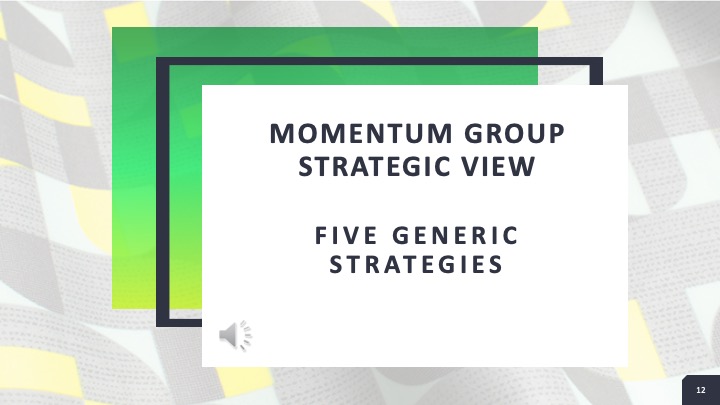 A company has the ability to employ basic approaches in order to gain a competitive advantage over rivals.  However, each of these basic approaches helps a company to gain a competitive value by delivering more value to their consumers and/or delivering these values more efficiently. The two biggest factors that helps a company to define their strategy is whether or not a company's market is broad or narrow and whether or not a company is trying to pursue a competitive advantage by linking it to lower costs or differentiation. The different types of generic strategies are low-cost provider, broad differentiation, focused low-cost, focused differentiation, and best-cost provider (Thompson, 2018).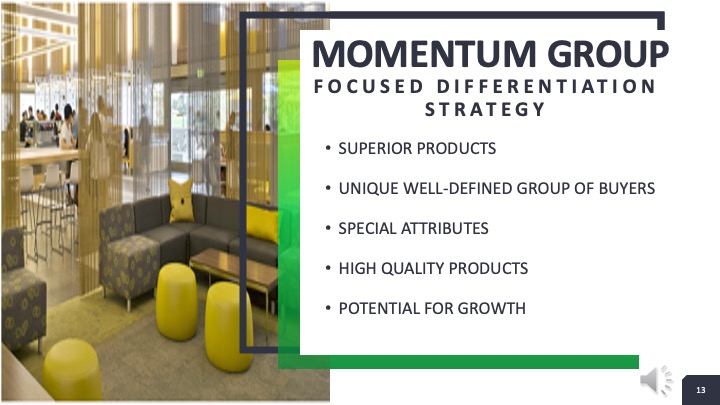 Companies that use focused differentiation strategies involve offering superior products that are unique to a narrow, well-defined group of buyers. To be successful a company depends on whether or not the buyer segment is looking for special attributes and products that stand apart from other rivals that are competing in the same niche. Because of this, consumers may not mind paying a higher premium for a more sustainable high quality product. It becomes increasingly attractive when the market niche is big enough to be profitable or have the potential to grow. It also becomes attractive if the niche is big enough to pick a specific segment that can be tailored to their resources and capabilities (Thompson, 2018). Momentum Group uses the focused differentiation strategy in order to be successful in the textile industry by tailoring to specific market segments and providing high quality products that are sustainable. They offer new innovative products each year to stay ahead of their competitors, keeping them one step ahead from the rest (National Institute of Standards and Technology, 2017).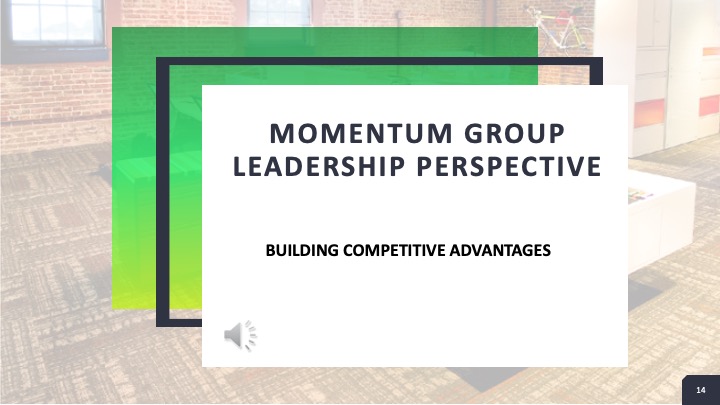 There are many advantages that come from small to medium-size businesses that focus on a single niche. This is because smaller businesses may lack the breadth and dept of resources to go about against larger leaders that have a broader customer base. As the niche grows, so does the complex sets of needs (Thompson, 2018).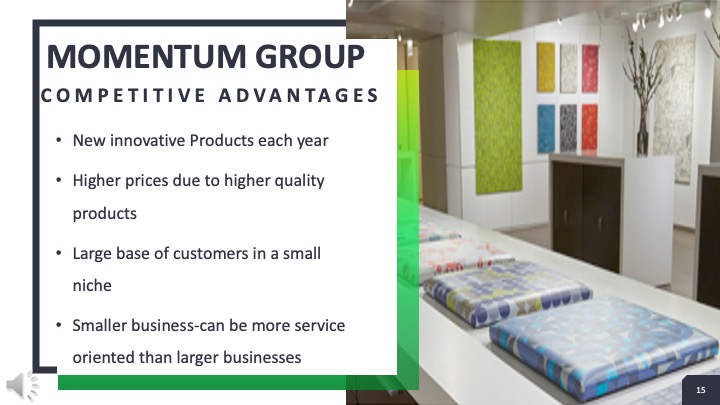 In the textile industry, we face the threat of new entrants that have the ability to bring new strategies and innovation which can ultimately reduce prices. We also have the threat of our current competitors such as Mayer Fabrics in who is a low-cost leader in textiles. However, Momentum deals with this in the fact that we come out with new innovative products each year, more than any other competitor in the industry (National Institute of Standards and Technology, 2017). Our bargaining power with our suppliers means that ones that are in dominate positions can decrease consumer margins. Because of this, we are able to extract higher prices out of our customers . We have a large base of clients in a pocket niche with the ability to come up with new products each year, which we normally have a 2 year turn around time. Because we are service oriented as well as product oriented, it can decrease the probability from switching over to substitute products or company rival such as Mayer Fabrics. With the our new acquisitions, we have expanded our products to over 2000 with over 20,000 different color options, more than any other company in our market segment (National Institute of Standards and Technology, 2017).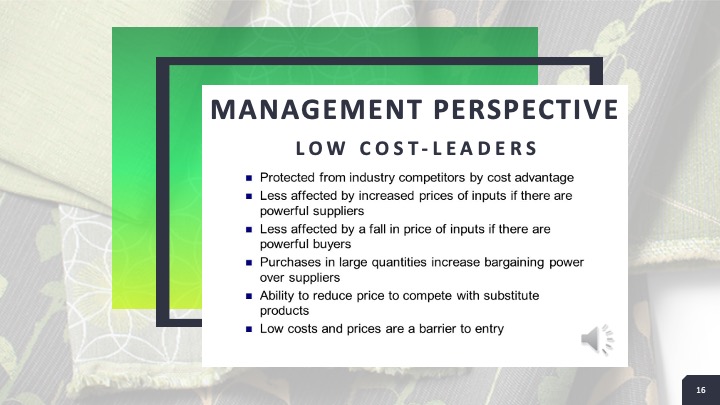 A company that focuses as being a low-cost leader such as Mayer Fabrics has the ability to gain and retain clients based on their lower costs with their products better than rival competitors. This is done by lowering their prices to meet a specific niche of consumers in a well-defined buyer segment. They end up being protected by other rivals because of their cost advantages and may have the ability to purchase in large quantities due to their increase in bargaining power.  Their lower costs create a barrier for new companies from entering the market (Thompson, 2018).  Momentum Group is not a low-cost leader, however, if we had the ability to lower our costs compared to our rival, this would allow us to have a competitive advantage of providing higher quality products at the same price, making our products more attractive with the attributes we are able to supply consumers, giving us the ability to gain clients from our competitors.
Having a differentiation strategy in place is used to target superior value to customers. This can be created by creating differentiation through different aspects of a company such as the product, service, personnel, and image (Thompson, 2018). In the areas of product differentiation, we do so in the types of sustainable products we offer as well as the 2,000 products we have. In service, we excel in the areas of training, coaching, mentoring, installations, and product delivery.  We also have excelled in differentiation when it comes to the expertise of our personnel, their responsiveness to customer's needs, as well as our modern technological advances that give us a competitive advantage over our rivals and allows us to increase the costs of our products over competitors.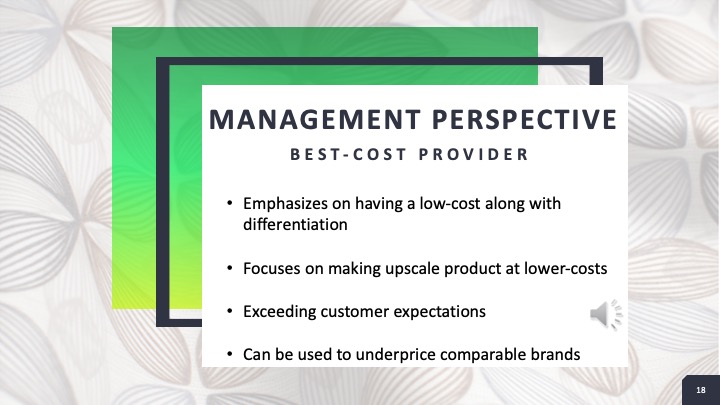 Best-cost providers emphasize on having a low cost along with a strategic emphasis on differentiation.  This can make an upscale product be available at a lower cost and to give consumers more value for their money. The objective of this type of strategy is to not only exceed customers expectations, but also to exceed their price expectations. The company can then use this cost advantage to underprice other comparable brands (Thompson, 2018). Because of the length of time we have been in business compared to the length of time other rivals have been in business, we do not have the capabilities to infuse these two concepts together just yet.  This type of strategy works best when there is a large number of value-conscious buyers who can be induced to purchase mid-range product at a below-average price rather than basic or overprice products. However, this particular niche is a small segment and the large number of value-conscious buyer is not there for this strategy to be impactful (Thompson, 2018).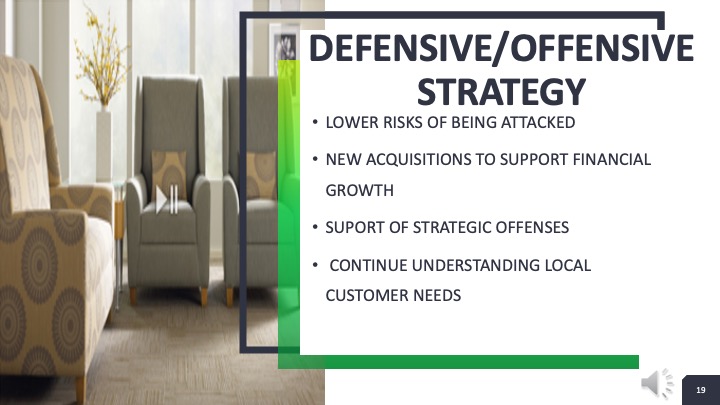 Companies must decide whether or not they are going to take an offensive or defensive strategy to improve its market position in the next year.  Offensive strategies include focusing on competitive advantage and then turning it to sustainable advantage, applying resources where rivals are not able to defend themselves, employing the element of surprise that rivals are not prepared for, and displaying a strong bias and overwhelming actions to overpower rivals. Defensive strategies help to lower the risk of being attacked, weakening the impact if an attack occurs, and influencing other challengers to aim their energy at other rivals (Thompson, 2018).  Momentum Group will be using a strategy that combines both offensive and defensive strategies.  By acquiring three new companies and brands, our company will have the financial strength to support strategic offensives in selected country markets and to help fuel our goal of being a leader in the world market.  The added financial capability will also give us the strength to wage a market offensive attack on our competitors.  We will at the same time, be focusing on still creating a keen understanding of local customer needs and preferences to create customized products or services as we have been over the last two decades.
When trying to time a company's strategic moves, they must consider whether or not they want to be a first-mover, a fast follower, or a late mover. Companies that are considered first–movers bear greater risks as well as greater developmental costs. In being a first-mover, it can help to build a firm's reputation and brand. It can also be used to set the technological standard for the industry (Thompson, 2018). Because of our rival, Mayer Fabrics, having a greater foundation of its brand, it is in the best interest of Momentum to be a first-mover. We already have a plan in place in which we come out with new competitive products each year, more than any other company in the industry, which shows that we are one step ahead of our competitors and to show the capabilities of our technological advancements.  Our new acquisitions have also allowed us to plan on launching new innovative products and we base any new collaborations off of the ability to meet customer requirements while making sure they align with the values of our organization. This will not only increase our visibility to consumers, but also to gain market recognition. Customer feedback is continuously used to identify future needs and other opportunities that enables the company to grow even further by identifying new product and market segments.  We evaluate past performances in order to update their long-term and short-term goals. Any opportunity to improve performance or innovation is communicated to our shareholders and tracked through review meetings in order to ensure it aligns with our entire company such as supplier's management team, facilities, quality controls, financial stability, and internal supply chain processes. When new suppliers have been proven to be potential for future innovations, they are given a vender binder that clearly identifies the company's values, requirements for product development, their standards for delivery, and adherence to guidelines as well as laws of ethical behavior. We have also recently made technological investments that have helped to blend data and knowledge together from customers, suppliers, collaborators, and the community.  However, we can further this knowledge by updating our IT, inventory tracking, order processing, and website accessibility. We do have a competitive advantage in that we are the only company in the industry to offer 5Clicks, a website search that has the ability to provide fabric selections by price point and inventory in 5 easy steps (National Institute of Standards and Technology, 2017) .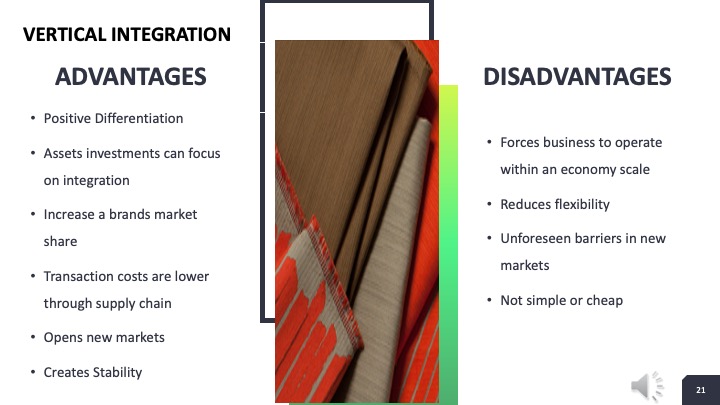 With a vertical integration strategy, an organization performs value chain activities along more than one stage of an industry's value chain system.  It can expand a company's range to either move backward into sources of supplies and/or forward towards end users (Thompson, 2018). A company that would use this type of integration is one that is trying to expand their business into different steps, but still remains on the same production path.  An example of this is a company that acts as its own supplier and distributor. The primary advantage a company would use this for is to improve efficiencies while reducing their overall costs. There are many advantages and disadvantages associated with this type of concept. The first advantage is that it can create differentiation because more information is available, thus allowing a company to adapt quickly to changes in the economy. Instead of seeking outside vendors, it can give a company the ability to invest in internals assets. Because of the ability to control more of its supply chain, it allows for a company to leverage a specific benefit a local demographic may need, increasing its brand's market share.  Overall, it can lower transaction costs, open up new markets, and can create stability as it is able to adapt better to economic changes over its competitor. However, vertical integration can also force a business to operate within an economy of scale if a company is not ready to adapt to changes.  It an can also reduce the flexibility along a company's supply chain, creating unforeseen barriers in new markets such as limited raw materials, and is not cheap or simple to switch over to this new type of integration (Ayres, n.d.).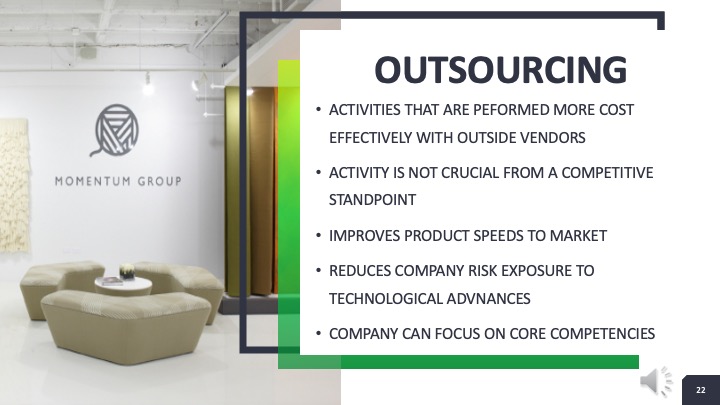 Outsourcing can be just as beneficial. This involves contracting out certain activities along the value chain that are normally performed in-house to outside vendors. This would make sense strategically for a company if it can be performed more cheaply by outside specialists, the activity is not crucial from a competitive standpoint, improves the amount of speed it takes to get the product to the market, reduces the company's risk exposure to changing technology, and allows a company to focus on its core competencies (Thompson, 2018). Here a Momentum, we use the outside sourcing of vendors to manufacture our products.  We use many different manufacturers around the world, giving us a competitive advantage over our competition, Mayer Fabrics, because they only use a handful of vendors, thus giving us the ability to provide products to the market segment faster all while decreasing our costs. Because outsourcing the manufacturing of the products is not a core competency, it gives us time to work on our main six core processes of product development, sample management, inventory management, sales, inside sales, and order filing.  Momentum Group is a force to be reckoned with as we move up as being one of the top leaders in the industry, to being the number one leader globally (National Institute of Standards and Technology, 2017).