CAN I LOOK WITHOUT BEING HARASSED?
Retailers employ innovative digital marketing practices to interface with consumers in the online marketplace.   This paper explores best practices for small businesses to target and attempt to encourage online "window shopping" to engage consumers without making them feel harassed.
By understanding that being harassed can be defined in many aspects and not per se, it is further understood that only a small portion of consumers feel that the strategic methods utilized result in them being harassed.  This author shows that from development to implementation, involving all levels of leadership and management with consideration to ethical guidelines and a policy to support the strategy that online retailers have a successful process.  The convenience of shopping with online retailers far outweighs some of the disadvantages and potential for consumers to be inundated with emails, ads, mailers, and phone call solicitations. Increasing the convenience while providing the consumer with options and security aids in the prevention of a fill the cart and purchase relationship turning it into a valuable one with longevity.
Interfacing with the Window Shopper
This analysis represents an overview of todays' online retail market and how companies utilize a strategic marketing plan to convert consumers from window shopping into long time customers.  To thoroughly evaluate how a company develops a strategy, implements the strategy, and how management and leadership employ the process this writer will use the premises surrounding methods used to target customers in the online market. The companies of focus for this analysis include Amazon and Overstock.  Companies such as these face the demands of what has become an omni-channel marketplace. In a dynamic environment, online retailers are having to develop ways to interface with customers on various levels to convert them from engaging in the concept of cart fillers and window shoppers into long lasting customers. Furthermore, these companies need to have a strategic plan in place to target these potential customers without harassing them. The question to be asked is if this can occur and if so what the strategy behind this in the online retail market is.
Strategy Development
Developing a strategy to effectively establish how the company is going to utilize its resources to determine how they will be successful occurs through a collaborative effort of all departments working together for the common interest of the company. The strategy employed in an online environment varies greatly from that of a brick and mortar store. Online retailers like Amazon and Overstock on a large scale have mastered the ability to take established markets like book sales, rentals, third party products, furniture, shoe, and other industry favorites and replicate them in a way to offer similar if not like items to customers online at a lower cost. This writer will utilize how the effectiveness of what the marketing, performance, finance, research and development, and management department contributes to the strategic plan of this rapidly growing online market.
Online retailers such as Amazon and Overstock have implemented strategic efforts that have brought them great success and positioned them in a marketplace far beyond the brick and mortar stores. This is in great part to their focused effort on customers, managing their financials in a way to accept minimal profit and to engage in rapid expansion and growth (Keller, n.d.). Overstock although not largely comparable in size to Amazon has built success in the online retail industry by selling excess inventory of closeout merchandise by various retailers at discounted prices (Overstock, n.d.). What both companies do have in common are their strategy to target those customers who visit their sites fill their carts, but never purchase, and those who just click and view items but never place them in carts or purchase them.  The use of predictive analysis is utilized for determining the products customers use the most, which ones they view, and what they are more likely to continue purchasing in the future. The information obtained allows the marketing department the ability to send target ads, discounts, emails, and other predictive measures to bring the customer back and build the relationship needed to establish longevity in the customer.
Strategy Implementation
An effective strategy requires an action plan that sets out to identify the objectives of the company, what their initiatives are, and how they will evaluate their business efforts in the market place. As an example, but not respective to the actual business plan, strategy or outcomes of the company, Amazon employs an objective to provide an online shopping experience to each customer that offers high quality products at fair costs with the best possible customer service. This is an unbeatable strategy in a marketplace where consumers often utilize the touch of a button on an electronic device and face to face interaction is almost nonexistent.
To clearly define a simulated example of how Amazon may hypothetically employ a strategic action plan this writer will presumably utilize the kindle fire as the product of choice. Hypothetically Amazon's organizational design chart includes: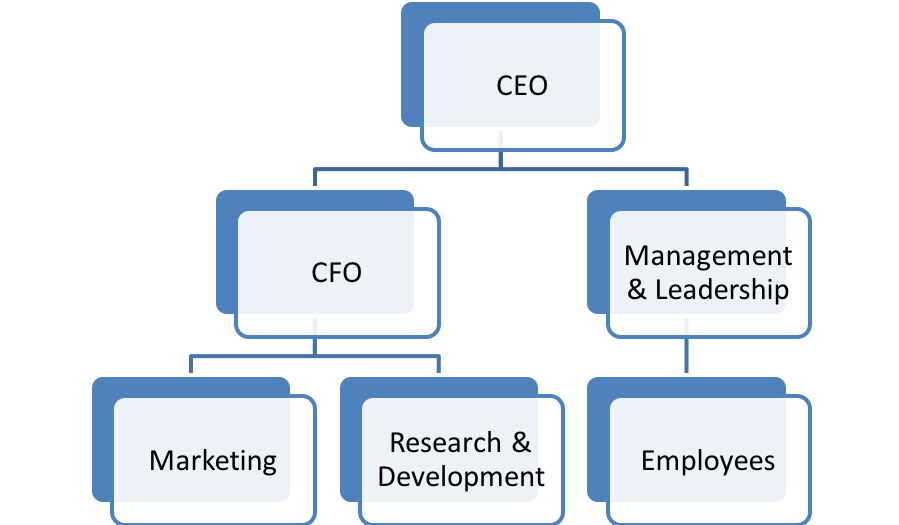 The research and development department will evaluate competitors such as Best Buy and Walmart to determine the best way for Amazon to position themselves in the market for success. The goal is to exceed sales of major competitors and offer combined incentives to customers who purchase Kindle Fire's by promoting the use with Amazon's own establish bookstore. The marketing department will work closely to determine the target market for the product, what promotional add on will aid in the successful promotion of the product and how the company can reach their objectives. Considerations for product delivery, who the suppliers will be and cost is essential to customer relationship management. A process of focusing on the target market for the product and utilizing those relationships for maximizing and eliciting new customers (Ascarza, Ebbes, Netzer, & Danielson, 2017).  Through the utilization of a balanced score card the company can connect their mission, vision, and values to measure and prioritize the most valuable needs regarding the strategy for success. Critical success factors such as customer satisfaction, competitive advantage, quality, and other factors also help to measure success with key performance factors. If the mission is to make a profit so that profit shareholders are satisfied and to provide a wide range of products that are high quality each product has to meet that expectation. Each aspect must be effectively combined to reach all components of the organization to ensure success. There must be guiding policies in place for each respective component and time frames set to include expectations, plan of actions for delays and errors and honest ethical procedures for business practices.
The concept of centering an organization around a customer who sits behind a computer, tablet, phone or other electronic devices requires a customer centric approach. The goal in this environment is to change the thinking of the individual and to determine a way in identifying if they are going to purchase a product or not. In this hypothetical setting of Amazon, the target would be any individual who likes to read, enjoys the convenience of having access to multiple reading elements in one location and the ability to engage in other applications.  Examples of strategic methods to target users is through the use of advertising linked to social media and other tools in online interactions to plant that seed and essentially make the customer believe they need the product. For example, Todd is browsing Amazon looking for a new reading tablet and comes across a tablet, Todd then clicks on the link to view the specifications and decides to save it to his cart for later purchase, comparison, or forgets about it and finds the same tablet at another online retailer for a lower price. Todd has become a window shopper or cart filler. Amazon can now highlight tablets such as the Kindle Fire on the browser homepage offering a discount on the product or show similar compatible items. The idea is to develop the procedures and resources necessary to target Todd and other customers to keep them as a customer.   Amazon may utilize the habits of Todd in this process to determine what a customer would be willing to pay for a product and may also use data collected to personalize promotions for each target market or segment (CXL, 2017).
Strategic Management and Leadership
Managements role in the process is key and becomes a medium for the success of the other departments.  It is through these department levels that financial expectations and customer satisfaction expectations are set. The organization must establish short and long-term expectations and be successful in competing in the online marketplace. Amazon's leadership is driven by the customers and their ability to seek out opportunities (Keller, n.d.). The organization places valuable effort into offering products and customer service that is beyond expectations and addresses faults and issues promptly and ethically as any successful organization should.
Extensive research into products such as the hypothesized Kindle example where the supply and demand for the product allows for a relative ship time, availability of the product, variations in storage capacities and other valuable resources that would be appealing to the customer can be measured. In addition Amazon and other retailers can potentially gain customers outside their target market or increase sales in other areas when customers purchase promotion products as the result of ads and other promotions on the home page of their store (Lohse, & Spiller, 2006).Cost cutting measures can be utilized to help increase profits and allow for money to be spent in other areas such as product promotion, development and marketing. Management and Leadership are key components in the risk reduction of unsatisfied customers and in providing product information.
Ethical Considerations
Amazon and other online retailers such as Overstock must ensure the privacy of their customers by providing a secure shopping experience. Policies must be implemented on how personal information is stored and the use of credit card information, processing of refunds, cancellations and other financial transactions are handled. The company should also be careful not to assume products are or items are not wanted by the customer and that customer service calls are recorded with prior notification to the customer of such recording taking place. The use of recordings aid in quality control measures and should also consider potential privacy violations if not appropriately conducted.
Policy
The policies set forth by the organization have an impact on many aspects of their success. Within the research and development and marketing department policies regarding responsibilities, procedures, forms, persons affected, and approvals are utilized to effectively manage and present a successful strategy. Each policy should support the strategy employed and allow for accountability in the process.
The strategy employed includes the short-term goal of selling current inventory products to a target market, with the long-term goal of utilizing data collected by evaluating the customers longevity. Methods such as predictive analysis and those employed for unhappy customers targeted at winning back a customer by evaluating their churn and rebuilding relations are used (Kumar, Leszkiewicz, & Herbst, 2018). A SWOT analysis to determine the organizations strengths, weaknesses, opportunities, and threats would be utilized in the strategy development phase to assess competitors, current market position, where the organization can improve, and how they address any issues prior to implementations.
Conclusion
Although online retailers employ methods to target customers who may not be buying products they are also allowing the opportunity to target sales in other areas and to gain additional customers. The minimal amount of target advertising and usage of data to engage the customer may be harassing to some but not all customers. In an age where technology and the ability to have the immediate here and now buying power shoppers are more likely to expect the feeling of being watched (Esmark, Noble, & Breazeale, 2017). Like how brick and mortar stores assess theft by watching, online retailers are just employing this method to assess buying patterns and the likes and dislikes of customers.
References
Ascarza, E., Ebbes, P., Netzer, O., Danielson, M. (2017). Beyond the target customer: Social effects of customer relationship management campaigns. Journal of Marketing Research. Vol. 54 Issue 3, p347-363.
CXL. (2017). How predictive analytics is transforming e-commerce & conversion rate optimization. Retrieved from https://conversionxl.com/blog/predictive-analytics-changing-world-retail/?hvid=352IDw
Esmark, C. L., Noble, S. M., Breazeale, M. J. ((2017). I'll be watching you: Shoppers' reactions to perceptions of being watched by employees. Journal of Retailing. 93(3) p336-349.
Kumar. V., Leszkiewicz, A., Herbst, A. (2018). Are you back for good or still shopping around? Investigating customers' repeat churn behavior. Journal of Marketing Research. Vol. 55 Issue 2, p208-225.
Keller, C. R. (n.d.). Amazon's business strategy & leadership in online retailing. Retrieved from https://profitworks.ca/blog/marketing-strategy/543-amazon-business-strategy-leadership-online-retailing.html
Lohse, G. L., Spiller, P. (2006). Internet retail store design: How the user interface influences traffic and sales. Retrieved from https://doi.org/10.1111/j.1083-6101.1999.tb00339.x
Overstock. (n.d.). History of overstock.com, Inc. Retrieved from http://www.referenceforbusiness.com/history2/75/Overstock-com-Inc.html